(Please see below for photo credit)
In honor of Halloween coming up soon, I wanted to share something with you that most people don't know about me….
While many women enjoy shopping for shoes, makeup and clothes, I enjoy searching abandoned places!
I find beauty within their rich history and chipped paint. Charm among their rusted metal, broken windows and dusty woodwork. Brilliant, untold stories gently floating up their grand staircases. Something that was once teaming with life in the past now has more allure for me than it ever did for me.
Yet I always find I am saddened by their demise but I do realize that if they did not spin on that downward spiral, then I would not be interested at all.
Take
Biltmore
in Asheville, NC. I love the house, I love the history, it's beautifully up kept for years upon years, but the closest I can get to that chilly deserted thrill I desire is when I view the now empty indoor pool in the windowless basement. I try to envision the pool in the movie Ghost Ship and its creepy isolation! Beyond that, I'll just take the wine tasting and be done with it. Sorry Biltmore. You ARE beautiful though.
Anyway, the other day, something brought me to the Bennett School for Girls in Millbrook, NY. Oh, wait, now I remember, someone on Facebook.com posted a really cool picture of an abandoned house via Pinterest.com, it was from there that I began researching and researching, never could I find it, but I did find something just as interesting for me. Luckily there are people out there who do not fear mice and have the guts to enter these places and take some really great pictures! And I have siblings who share this odd preference for abandoned places - but they are much, much braver than I!
So here's my really cool interesting place of the day!
Introducing the Bennett School for Girls / Halcyon Hall / Millbrook, NY
…So many cool haunts are in upstate New York!
It started out as a 5 story posh hotel in 1890, Halcyon Hall. It was the Golden Age and Hotels were popping up all over upstate New York as an escape for the rich of New York City. However it did not receive the guests or popularity it anticipated; lasting only 11 years it closed in 1901. After searching for a buyer, finally, in 1907 it became the Bennett school for girls. This school slash college was going great until 1977 when it filed chapter 11, finally closing for good in 1978. Since then, it has stood still, silent and "
utterly alone
" since allowing the elements of icy winters and humid summers beat upon it, breaking its spirit down board by board, beam after beam.
Amazingly eerie, I am entranced by its beauty and grandeur as I envision its first guests walking up the stairs in their top hats and long dresses before the turn of the century, onto the stone porch and entering the grand foyer for the very first time. My Lord, what I would have done to be a fly on the wall watching it all unfold on that very first day. Of course, if I was, then I would be dead by now and not able to enjoy this moment! So instead, I'm sharing it with you! Enjoy!
BENNETT SCHOOL FOR GIRLS, MILLBROOK, NY, HALCYON HALL
Thank you to
Opacity.us
for the great pictures and story- you have always been my urban explorer hero since the Heritage days! Say hello to Ohio for me! Did you ever find that abandoned amusement park I was telling you about near Zanesville?
PS my sister says it's haunted! I don't believe her-she's just trying to scare me and I'm tellin' MOM!
And just to give you a little bit more images from Opacity.us, (you really should visit)...
Also some of these photos are from hrvh.org, I have tried to make sure every image is linked to it's original website. If I have missed something, or have not given the correct credit. Please just let me know in the comments below. I totally respect these adventurous explorers and historical libraries. Please take a moment to visit and tell them I sent you!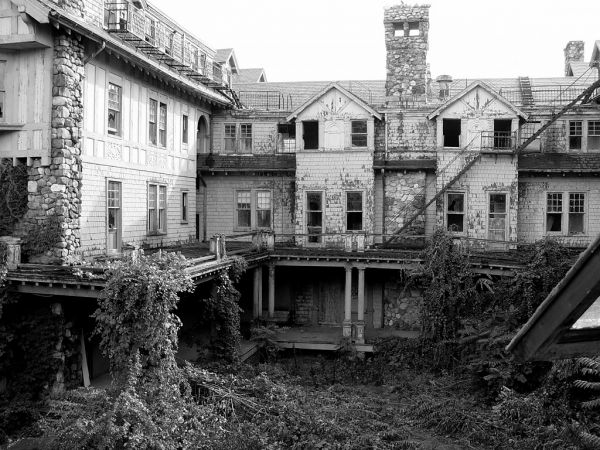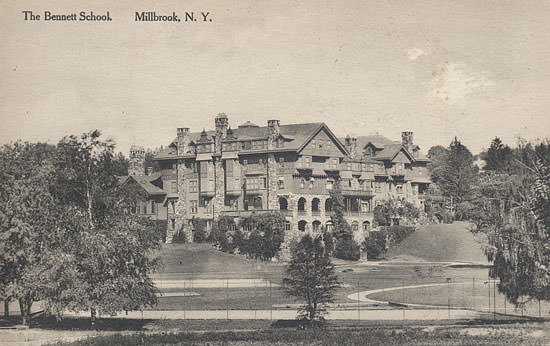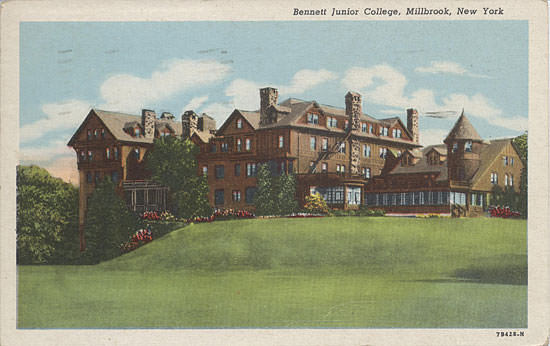 c. 1908 Dorm Room for Bennett boarding school for girls.
Judging from the date, it had just been acquired by the school in 1907 (after sitting empty for 6/7 years) I would suspect this was an advertisement for the school... Hence the pennant flag banners, 2 writing desks, fireplace and the piano in the room.
Here is another dorm room.... No piano. Judging from the pillows and the bedspread, I would say this may have been taken from time around the 40's or around about. When I zoomed in, it looks like a gentleman in uniform and hat (possibly WWII) in the frame on the back desk and a suit and tie in the frame between the beds. Check out the alarm clock on the desk, it's a pop up, closes for storage in a hard case and props up for viewing from the bed. We call those travel clocks now a days. 
Above: Newspaper clipping about Halcyon Hall (when it was still a hotel) Date: 1893
F. W. Woolworth was a guest. Must have been posh, considering.
If you can not see the picture it says:
Halcyon has been full to overflowing for the past three weeks, and prospects are very good for a late season. Monday a ladies' golf tournament was held for a silver loving cup, which was won by Mrs. J. C. Taylor, of Brooklyn. Tuesday a gentlemen's golf tournament, the prizes being a silver cup and a silver flask. First prize was won by Mr. J. C. Taylor, second by Mr. F. W. Woolworth, the crack left hand player. A subscription list is being circulated for the benefit concert for the Halcyon Orchestra, Sept. 15. So far the subscribers have been very liberal. Mr. James T. Powers, the fun maker, is with us again after an absence of three weeks
c. 1908 One of the stairways inside Halcyon Hall. Can you imagine coming to this hotel and using these stairs to go to your room? Can you imagine who you'd be rubbing elbows with!
c. 1908. Woman in the kitchen at Halcyon Hall.
c. 1908 Horse and Carriage arrive at Halcyon Hall/Bennett Boarding School For Girls.
c. 1912 When it had become the Bennett boarding school for girls.
Halcyon Hall from the tennis courts.
Unknown female sitting besides tennis court in the summer. Halcyon Hall in background.
Original thumbnail image credit:
http://www.adventurebibleschool.com
and
www.juliawertz.com
Julia Wertz has some really cool interior shots as well...Adventurous is an understatement for Julia.
Read More »